So far, most manufacturing companies in the industry are still using the traditional door-to-door visits and services for their industrial products. Such services may appear to be free, but in reality, service charges will be added to the final prices of the products. Without the on-site service, can the customers install and use the machines?
Growth of customers: From door-to-door service to self-installation
Like a smartphone, the more intelligent the machine is, the simpler the operation will be – The customer can install and use the machine without the on-site guidance of a professional engineer. Marsh spends every pence of its product cost on developing cutting-edge technology to maximise product value. So that various small and medium-sized enterprises can replace their traditional hot stamp coders with our digital hot stamp coders without increasing business costs.
As one of the first few industrial products suppliers who run eCommerce businesses, Marsh strongly believes that direct online sales and remote services will provide small and medium-sized enterprises with more cost-effective solutions.
Converting from the door-to-door service to self-installation enables the growth of customers, thus promoting brand growth.
Brand growth: A resource library that is constantly expanding and improving
Not providing door-to-door service does not mean customers will be left alone without any support. To help customers grow, brands should prepare plenty of comprehensive help resources. To allow customers to install the coders independently without any worries, Marsh brainstormed helpful resources for customers before the launch of the Marsh M241D coder. From the perspective of customers, we created concise and easy-to-understand help videos, help documents, and more than 50 FAQ articles answering questions from purchase to installation and maintenance, which are all available on marshcoding.com for free.
With the aid of pictures and texts, you can have all the information excellent sales consultants will tell you on our product details webpage.

Like excellent technical service will give you instructions, we guide you step by step via animations and videos.

With our

7-

day-no-quibble return, you can try the new product and technology without any risks.
Our customers have been helping us grow since our product launch. We continue to listen to our customers' feedback, digest questions we collected, and produce new articles, expanding the FAQ& Knowledgebase. So that customers who encounter similar issues in the future can easily find solutions they need. Our FAQ articles have increased from 50 FAQ articles to nearly 70, and we are sure the number of FAQ articles available will continue to increase.
Marsh strongly believes a brand must listen to customers' feedback and act accordingly to grow. Growing with the customers is the key to the success of Marsh on direct online sales.
Marsh FAQ & Knowledgebase
If you encounter an issue, whether it is related to purchase or maintenance, we recommend you search for the solution on our FAQ& Knowledgebase. If you are interested in learning how to access and use the FAQ& Knowledgebase, please read "How easy is it to upgrade to a self-sufficient coder? Examples of customer self-installation and Q&A.".
If the FAQ& Knowledgebase does not have the information you need, we encourage you to complete the feedback form on marshcoding.com. Our customer service will get back to you as soon as possible, and your issue will be recorded as material for a new FAQ article to help other customers in the future.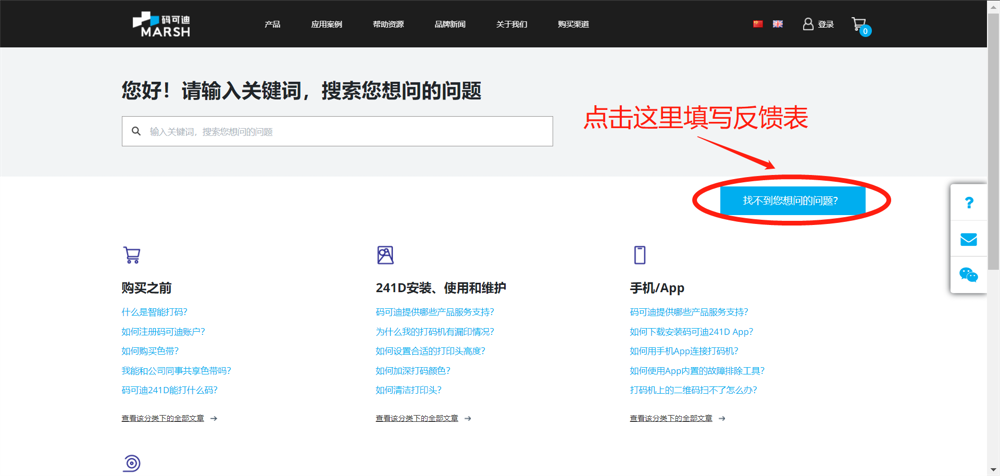 Feel free to click 'Resources' on the top bar menu and check out various help resources we have specially prepared for you!